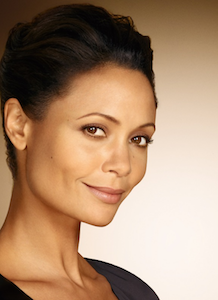 Internationally recognised for its vital message of giving black and Asian dancers the professional opportunities they merit based solely on their talent and dedication, Ballet Black continues to amaze. As a Friend, you will be making a valuable contribution to the sustainability of this small yet hugely significant company and will support its ongoing commitment to aspiring dancers and to its ever increasing and loyal audience. In return, you will receive an invitation to watch Company class and meet the dancers and to the annual Ballet Black company tea party. You will receive quarterly newsletters to keep you up-to-date about news, events and performances so you will never miss out.
For a donation of just £48 a year, you will be an integral part of the Company's incredibly exciting future and all at Ballet Black look forward to having you with us.
Thandie Newton
Patron, Ballet Black
Friends Circle for people aged 18 and over – £48 per year
(annual subscription)
Friends Circle for people aged 17 and under – £24 per year*
(annual subscription)
The subscribe options above allow you to join our Friends Circle using PayPal. We can also provide an alternative card payment option using iZettle (with payment via a secure online invoice), and also accept cheques and direct BACs bank payments. Please do contact us and we can provide the appropriate PayPal alternative if that better suits your needs.
Important note for Junior Friends who wish to attend a Friends event
*Please be aware that a Junior Friend under 15 years of age will require a guardian/adult with an active Friends Membership to accompany them to a Friends event.
Friends Circle Terms and Conditions
When joining the Friends Circle, you will be required to provide Ballet Black with your full name, email address, telephone number and postal address. We require these details in order to contact you regarding your membership. Your details will not be passed on to any other organisation and will remain on Ballet Black's records for six years.
In accordance with government guidelines, Ballet Black (registered charity 1101599) may claim Gift Aid on Ballet Black Friends Circle membership as the benefit provided to each Friend does not exceed 25% of the donation value. Gift Aid means Ballet Black can claim an extra 25p for every £1 you give and it won't cost you any extra. You can read full guidance from the government here: www.gov.uk/guidance/gift-aid-what-donations-charities-and-cascs-can-claim-on
The Friends Circle is a one year membership subscription from date of donation (i.e. 18 March 2016 – 18 March 2017) valid for one named individual. Your membership, if paid via PayPal, will be automatically renewed on an annual basis. You can cancel the auto-renewal in your PayPal account at any time and they provide instructions here. Membership fees are is non-refundable.
Please be aware that a Junior Friend under 15 years of age will require a guardian/adult with an active Friends Membership to accompany them to a Friends event.
Any donations made to Ballet Black will be used solely for purposes of the charity and not distributed to any other charity or organisation.
Ballet Black is registered charity 1101599 and registered company 04573958. The registered office address is: Austin House 43 Poole Road, Westbourne, Bournemouth, Dorset, England, BH4 9DN